All the details you need! Here is a step by step description of building Link Solutions Painting Company Website. From branding to photography to videography and lastly to the website, all in just 8 weeks.
Project Details of Painting Company Website
Client: Link Solutions Painting Company
Industry: Construction
Location: MA
Project Scope: Brand colors, brand identity, brand messaging, new lead generating website, custom copywriting, Search engine optimization blogs, photography, videography.
Project timeline to completion: 8 weeks
Link Solutions painting company offers a variety of professional residential and commercial painting services. A top rated painting contractor in Massachusetts founded by 4 childhood friends that all shared the same dedication and drive for quality painting services. Moreover, many homeowners in the Boston MetroWest area select their interior and exterior painting services.
When Link Solutions owners Alan Sanches, Isaac Alvarenga and Gilberto Alvarenga came to the Rootless Agency team, they were looking to rebrand their company while tying into the brand story their three distinct personalities. The owners wanted to rebrand their painting company to showcase the Link Solutions detailed process and quality craftsmanship. The Rootless Agency team goal was to build a lead generating website that would perform and meet the search engine algorithm requirements.
The First meeting:
Our first Rootless Agency discovery meeting was with all three Link Solutions painting company owners. We sat down at our Hudson, MA Office to discuss the upcoming project. We asked detailed questions about what current challenges Link Solutions was facing. In a series of discovery questions, the Rootless Agency team were able to identify the core values of their company. When getting to know each other in a discovery call, our number one goal is to make our clients comfortable enough to share their visions, wants, goals, and the big picture.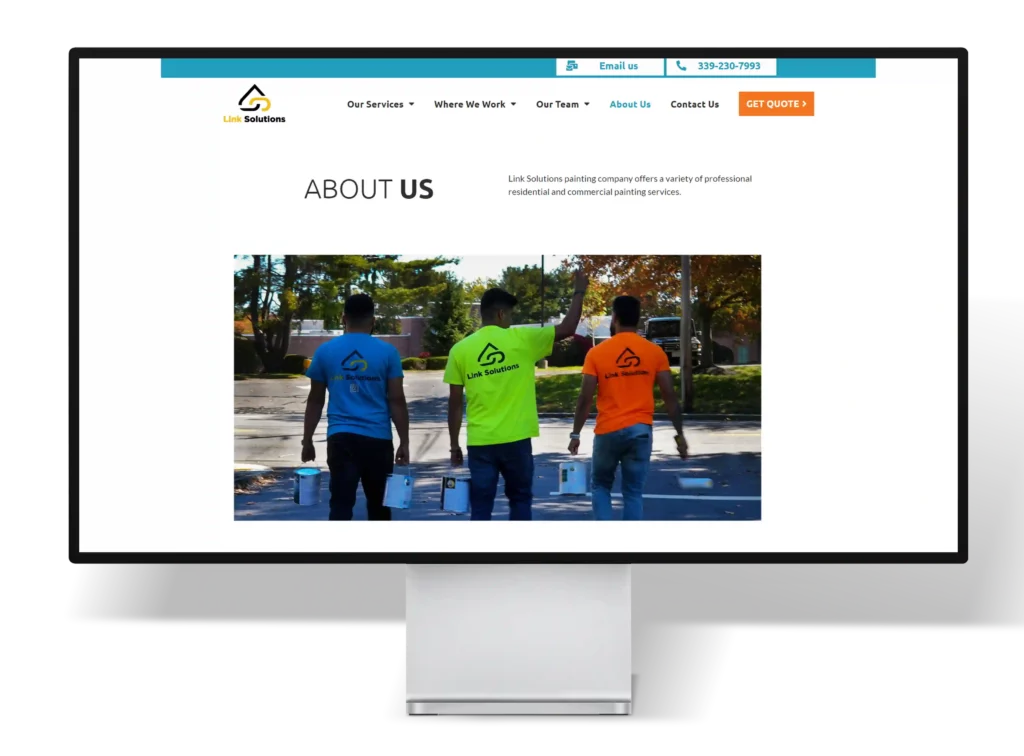 The Second Meeting:
After the discovery process was concluded, our Rootless Agency team began mapping out the strategy on Link Solutions Rebrand. First up; colors and fonts. Colors and fonts are very important to a brand identity. The colors are responsible for setting the mood of the entire brand. Colors speak volume. For guidance on colors we focused on their slogan; "Breezy home makeovers and smiles all around". For the word "breezy" we pulled inspiration from the sky and focused on that sky blue, while for the word "smiles" we pulled inspiration from the sun with a subtle sun yellow.
We moved into brand identity and messaging after colors and fonts were completed. Who is Link Solutions? What does Link Solutions do? Who does Link Solutions help? How does Link Solutions help them? To answer these questions in the best way possible, we provided each owner with a google drive where they could drop in documents, photos and any inspiration as it came to them. Furthermore, our writing team took all the submissions and began putting the pieces together to create a one of a kind brand identity and voice.
Once we had this identity created, it was time to implement the next step; the website.
The Link Solutions painting company website:
We knew our clients wanted a website that generated leads for their local painting company in MA. At Rootless Agency we also wanted the Link Solutions website to become a sales pitch to potential clients. How do we achieve both while still keeping the user engaged? For the Rootless team this meant that we would have to study and understand the painting industry and our clients' ideal customer. The Rootless Agency team began researching the painting industry and our clients' direct competitors. Next, we identified the ideal Link Solutions client. The Rootless Agency team created an avatar for the ideal client after all research was done.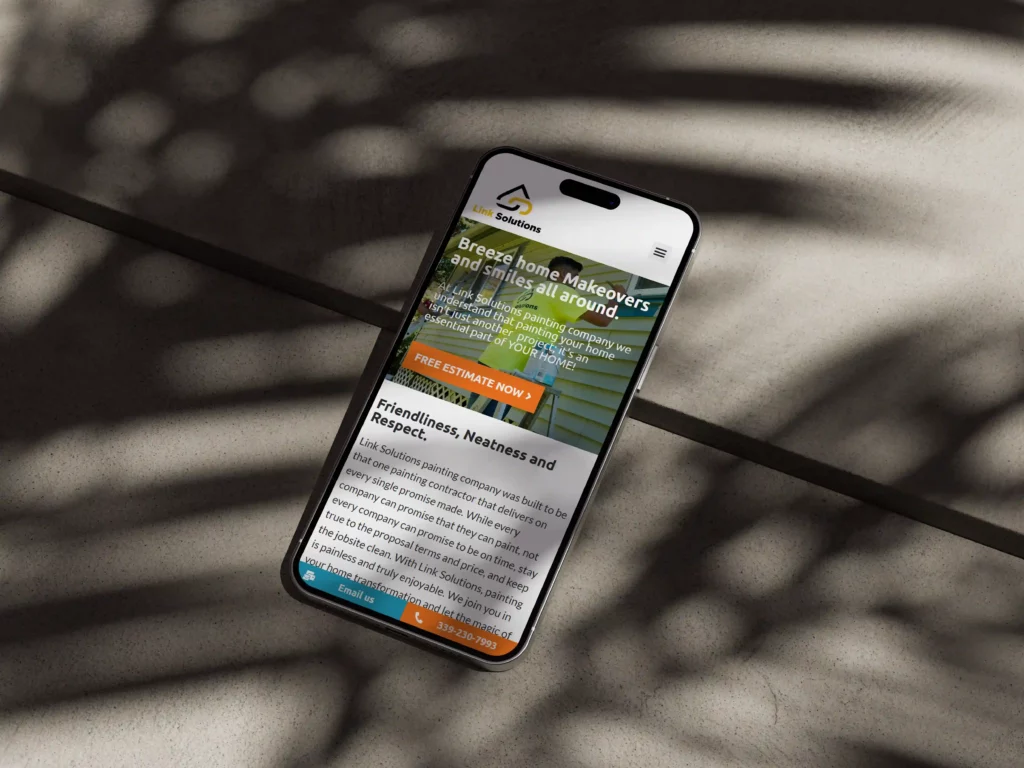 The frame:
The website frame is very important not only to the style of the website, but also to the UI/UX. The Link Solutions painting company wanted to ensure that their clients could absorb as much information as possible about the painting process while on their website. With that in mind, The Rootless Agency team wanted to make the website educational while still providing a great user experience. For the frame of the Link Solutions website, the Rootless Agency team wanted to use a combination of numbers and text to provide visuals to readers. The frame was delivered to the clients for approval prior to implementation.
The Copywriting:
Our Rootless Agency content writers are one of a kind. For the Link solutions website, our agency writers wrote 23 custom pages for the. Moreover, they were able to create copywriting on every page and capture the Link Solutions voice by providing clear expectations on each page and setting the tone of what working with Link Solutions would be like. Each page was given to the clients for review and approval prior to adding to the website.
SEO rich blogs for Painting Company Website:
At Rootless Agency, we understand that in order to create a lead generating website, we have to build a rich SEO and blog strategy. With Link Solutions we started our blogging strategy around the most popular search terms that potential clients may be searching. In other words, we took each one of these search terms and created SEO rich blogs with 1500 plus word count. Our SEO Blog strategy is unique as it focuses on local , and industry specific search terms.
Photography and Videography:
Our Link Solutions clients chose to have the photography and videography of the website captured by the Rootless Agency team. As a result, we provided our clients with one full day of content creation both video and photo. We met the owners of Link Solutions at a painting job in the morning and were able to capture the work being done. After taking videos and photos for 6 hours on the job site location, we decided to take it back to the Rootless Agency studio where we got candid with interview style videos. Thus, all the content captured we were able to use throughout the website, eliminating the need to use stock photography. The custom photography and videography gave the website a strong identity and a familiar feel.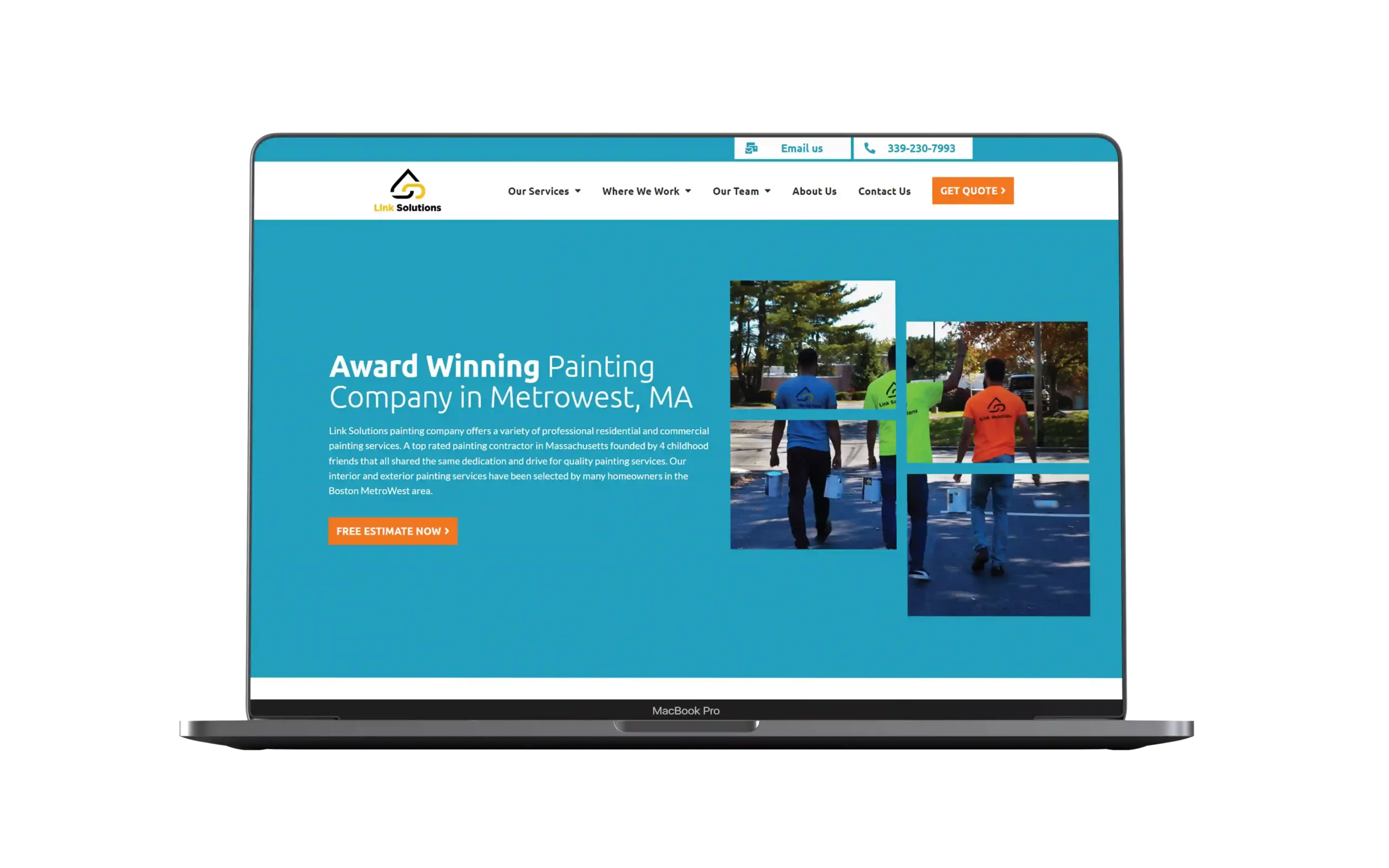 The A/B testing for Painting Company Website:
Once the Link Solutions Painting company website was fully completed, the Rootless Agency team delivered the completed website to our clients. The team gave them 2 weeks of testing which would allow our team as well as the clients to find any bugs across all devices such as phones, tablets, laptops, and desktops. This is also a great time for revisions as the clients receive feedback from family and friends. We provide our Rootless Agency clients with 2 free revisions.
We are Live:
The website went live once the testing period was completed and all revisions were done. At Rootless Agency, we always recommend our clients the best and fastest servers like AWS for optimal performance. Once the website is live on the best performing server and hosting site, we offer ongoing support and maintenance depending on the client's monthly needs and over all goals.
Conclusion:
A Complete rebrand, a clear voice and identity and lead generating website.