Lunariaa.eu Floral Art Speaks the Language of Love.
Lunariaa.eu uses the latest technologies to dry flowers so they maintain their beauty and delicate appearance for a long time. When Olsjana Ajdini, founder of Lunariaa.eu, gave her sister-in-law a bouquet of fresh flowers for her birthday, she knew that the beautiful arrangement would last only a short while. Soon they would be thrown in the trash. That is when she decided to find a way to preserve flowers and turn them into art. Ajdini says, "I dry flowers so they will not die." But she is actually retaining a memory in a tangible way that is treasured.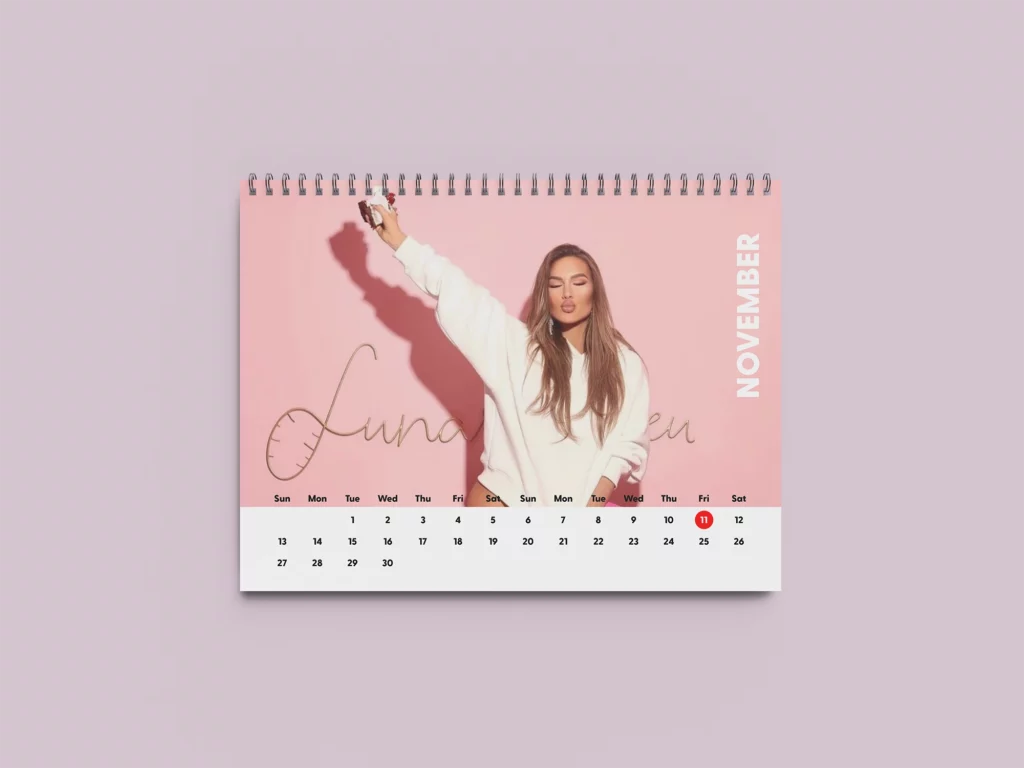 Say it with flowers.
For many occasions, flowers are used to express love and affection. Lunariaa.eu wanted to brand their exquisite creations with a message that says, "Say it with dried flowers" so their memory is captured and lasts forever. They are the first business to dry and preserve flowers into wall hangings, company logos, and floral pictures. A process that takes endless hours of artistic handwork.
Branding to expand Lunariaa.eu internationally.
Lunariaa.eu approached Rootless Agency to assess their brand and help them to expand into the international market. Co-owner of Rootless Agency, Xhulio Jamaku consulted with Ajdini and advised her to start with a new name and logo. The name Lunariaa was selected because it represents a flower that is much loved for its white or purple petals. The Lunaria plant represents honesty, money, and sincerity. The Latin name means "moon shaped." This refers to the translucent seed capsules of the Lunaria plant that resemble coins. This gives the plant its alternate name: the silver dollar plant. The Lunaria plant dries naturally, so it was the ideal choice to represent the company.
Using the symbolism of the Lunaria plant, Rootless Agency created a new logo that combines an illustration with the company name. The new logo represents the unique floral art crafted by Lunariaa.eu.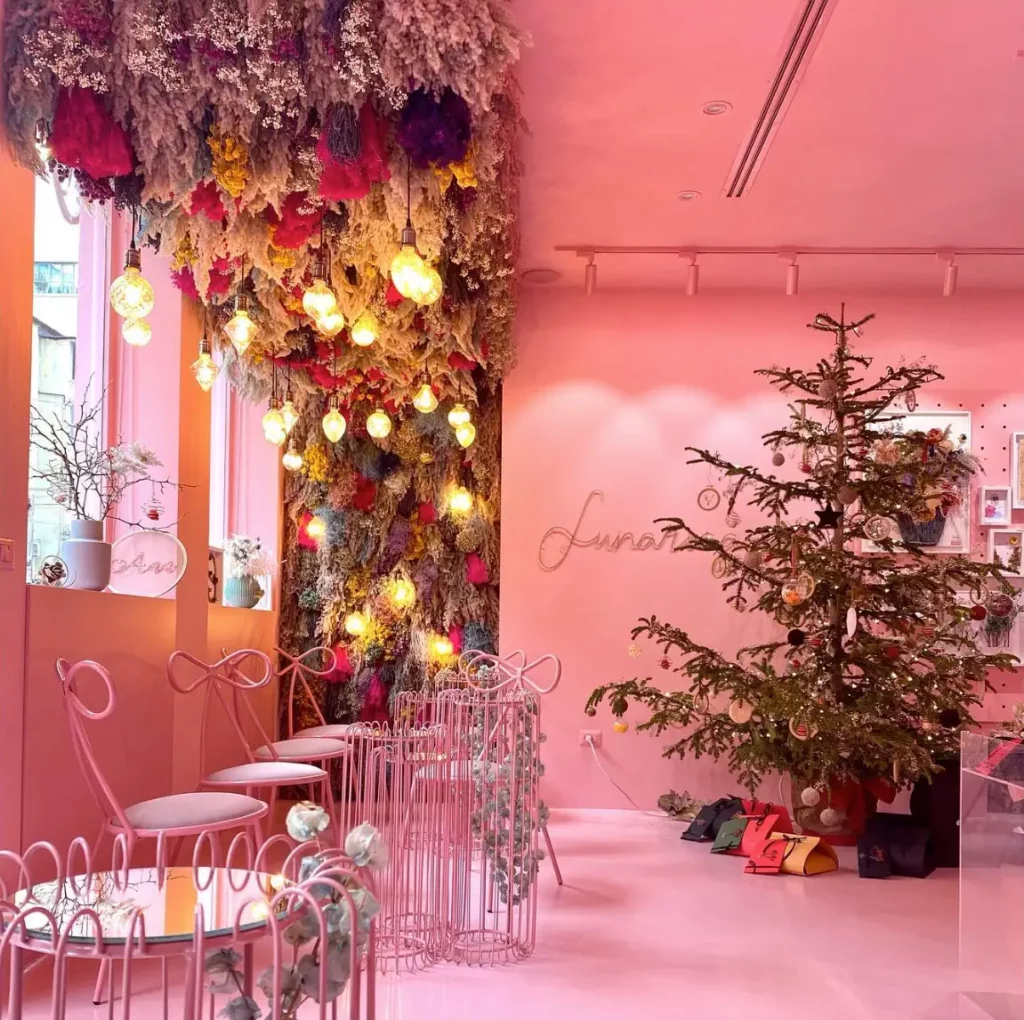 A full-scale marketing effort.
Then it was time for Rootless to design the marketing plan that would give exposure for Lunariaa.eu in Europe and America.
Rootless Agency co-owner, Greta Bajrami recalled visiting an expensive men's clothing store in Boston. "The store has a patio and a coffee shop that I loved. I realized that every time I visited there I learned more about the way the suits were made. I began to appreciate the effort that the tailors put into each garment. So much work goes into each one!"
She thought that an "immersive experience" like that menswear café could be the central theme of the marketing plan. A Lunariaa café with art on the walls and tables was just the beginning. While browsing Lunariaa, people could sip a drink made with lavender flowers, relax, and immerse themselves in the Lunariaa environment.
Jamaku says, "Olsjana Ajdini is a visionary. She took this immersion idea and ran with it, creating an environment that is a showcase for the artistry she and her fellow floral artists create.
More than just a strategy
Rootless used the site for agency photo shoots to publicize Lunariaa.eu on social media. Soon celebrities and social media influencers came to the café. News programs and prominent social media sites featured Lunariaa.eu and businesses and individuals were ordering custom-designed floral pieces, created with hundreds of dried flowers.
Now Lunariaa.eu art is everywhere. Ajdini has designed pieces for farm-to-table restaurants, hair salons, corporate lobbies, and more.
Bajrami explained, "Our approach at Rootless is to slip into the shoes and heads of consumers. I become the potential customer for our clients, so I can envision what ideas will engage the customer. Then I bring the best marketing ideas to our clients. For example, as a hair salon and spa customer, I know that a dried floral arrangement hanging from the ceiling will engage my emotions and curiosity. I am reclining, looking above me as my hair is being washed or as I am enjoying a facial. This promotes conversation and the desire to have a similar creation in my home."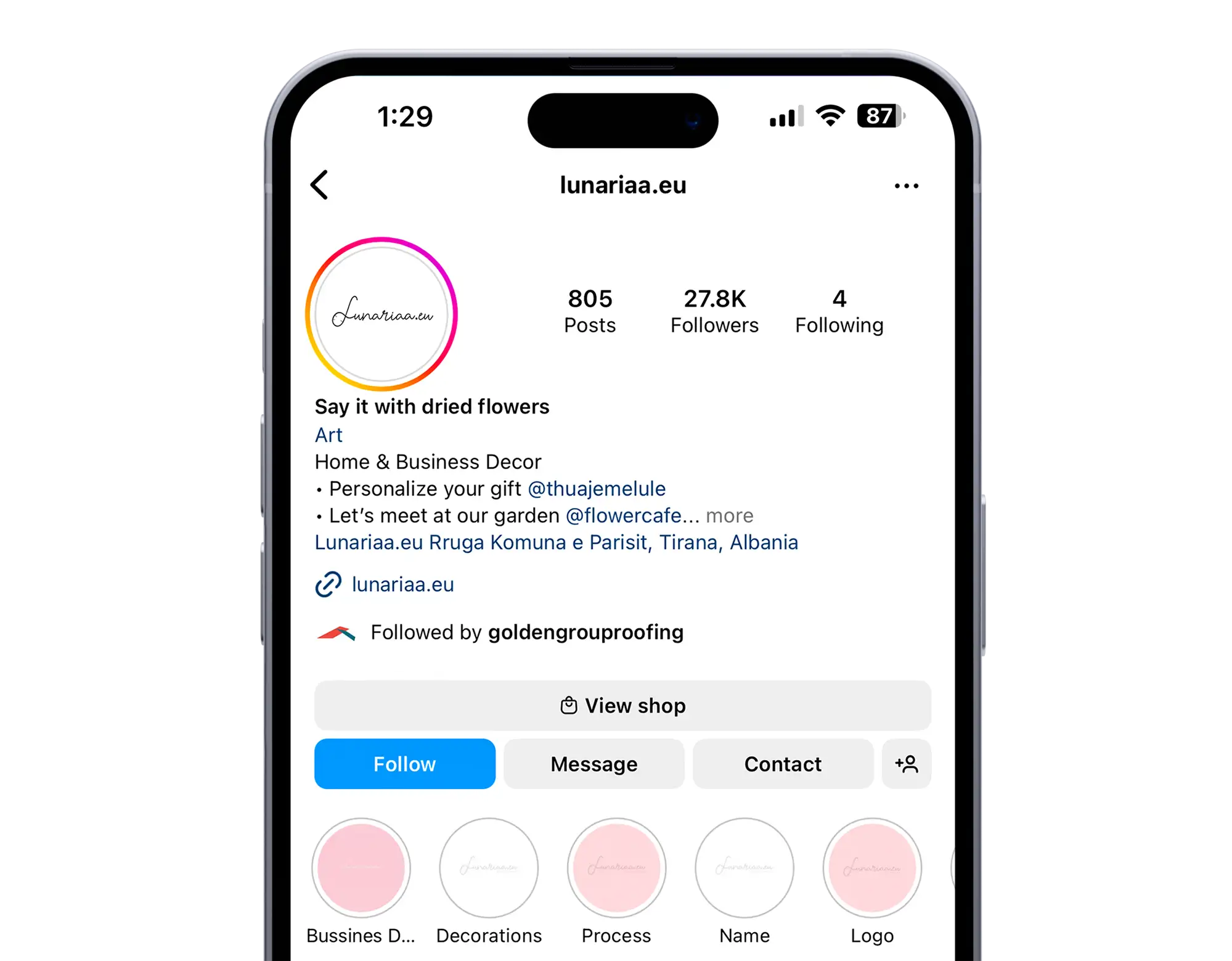 Social media is key.
Social media is an integral part of the marketing plan when promoting an idea, a brand, or a product. Jamaku explained, "Rootless created the brand and social media gives it the attention it needed to achieve the goal of international recognition."
The first step was and is always to meet with the client to discuss strategies. A focus was placed on the company logos that Lunariaa.eu created as dried floral artwork. Although 40-plus hours are needed to create just one, Lunariaa.eu agreed to build some and give them to prominent businesses with instructions of how to take care of them. In turn, the businesses agreed to post photos of the floral logos on their social media pages.
Next Lunariaa.eu targeted celebrities and influencers. They looked to see what special events were happening in their lives. Was there a birthday, anniversary, birth, pregnancy, engagement, wedding, illness? Lunariaa.eu created and sent a symbolic arrangement to them. Photos of these arrangements were posted on social media, featuring Lunariaa.eu.
Greta Bajrami points out that, "Yes. There is a cost to doing this, and there are no guarantees. However, social media produces exposure, creates a "buzz," and this strategy gave Lunariaa.eu an immediate result. Now the company is generating lots of sales, so giving away free floral pieces is no longer necessary.
Next steps for Lunariaa.eu
Lunariaa.eu currently features businesses where one-of-a-kind dried floral pieces have been made. Social media is used to display the piece and get "Wows!"
Rootless Agency also uses special days as a strategy for featuring Lunariaa.eu on social media. The usual Christmas, Valentines Day, and Easter holidays are good examples, but Rootless also features gifts from Lunariaa.eu for lesser-known holidays like Teachers' Appreciation Day.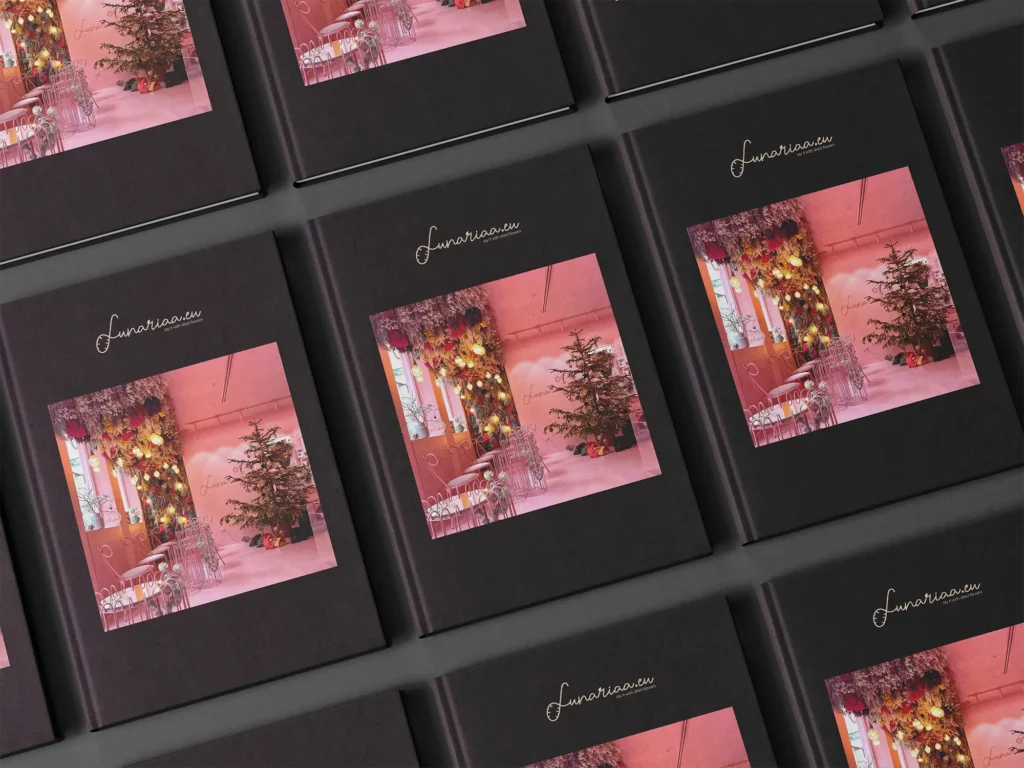 Using social media to view life in action.
Social media has become a part of life. Rootless Agency encourages its clients to allow the "cameras to roll" in their business to demonstrate how people engage with their products or services. At Lunariaa.eu videos show the café when the DJ is entertaining customers or when a wine tasting, or art workshop is in progress. Bajrami says, "We want to show the public how the client's business can be a part of their lives. We want them to want to be there and enjoy what they see the people in the videos doing."
A long-term relationship: Lunariaa.eu x Rootless Agency
Rootless Agency employs the immersive marketing concept to the max. Their marketing strategies expand and grow with the client's growth. Theirs is a long-term relationship that is essential to achieving business goals.
What's next for Lunariaa.eu? Many ideas have been discussed and some are in the most recent marketing plan. Expand Lunariaa.eu into pop-up boutiques at major shopping malls to showcase their dried floral art? Develop a multi-pronged public relations campaign? Build an e-commerce channel for dried floral art pieces?
The shift to building an internationally recognized company requires a marketing partner that stays involved for the long haul. Xhulio Jamaku says, "At Rootless Agency, we see ourselves as being part of our client's business. We change as the business changes. Our strategies change as the client grows."If you have questions about rebranding your nonprofit or company, contact us. Perhaps you want to know what is involved in the redesign of a logo or the launching of a social media program for your company, contact Xhulio Jamaku, the co-owner of Rootless Agency.